ICOs are now the most popular way for startup-companies to raise funds via use of cryptocurrency by emmiting coins (or tokens) symbolizing ownership
interest in an enterprise -much like a digital stock certificate- which can appreciate in value if the business is successful.
ICOs have already raised more than $3 Billion this year, outclassing traditional venture capital funding. It is not uncommon for some projects to raise tens of millions dollars in a matter of seconds from investors worldwide pitching as low as $0.10. To date, the largest ICO raised just over $250 million.

We believe that the ICO model is at the dawn of a new decentralized economy that will disrupt traditional business models in a way that has not been seen since the emergence of the Internet.

Until now, the ICO model was mostly used to raise funds for startup companies like ours, we aim to extend this model to the art and luxury industries by introducing four new Initial Coin Offering models : ACOs for art and artists, FCOs for fashion designers and brands, WCOs for fine wine and RCOs for luxury real estate.

A cryptocurrency is only as good as the projects it backs and the community behind them : we aim to build a coherent ecosystem around the DLVEX platform, its currency the Louvois Franc (LVF) and DeLouvois.com our art & luxury marketplace, where entrepreneurs, artists and investors will be able to fulfill their dreams and ambitions in the future decentralized art and luxury markets.
Giving art back to the public

Until this summer, the record for the most expensive painting being sold at an auction was held by "Les Femmes d'Alger" by Pablo Picasso for just about $210 million which would rank it just behind the largest ICO to date.

According to Christies auction house, only about 220 individuals could afford such an enjoyable investment : art has become a trading commodity for the very few.

Our Art Coin Offering (ACO) model we will allow the crowd to outcompete the few by offering major artworks for crowdsale.

Anyone with internet access and will have the opportunity to invest and trade shares in major artworks until then reserved to the 0.001% while profiting equally from the value generated by such artworks.
Living of your art is challenging, becoming a successful artist is virtually impossible unless you have the money and right connections in the art market.
Powerful galleries are making billions deciding whichever random artist will become the next big thing in art and pocketing unhealthy commissions while talented and meriting artists around the world are struggling.

Using our ACO model, promising artists will be able to boost their careers by raising funds from a worldwide range of patrons and investors by creating their own tradable cryptocurrencies.

It is also a great way for artists to generate powerful network effects while federating a worldwide community of patrons and investors who will benefit from the eventual artist's success hence becoming their most loyal ambassadors.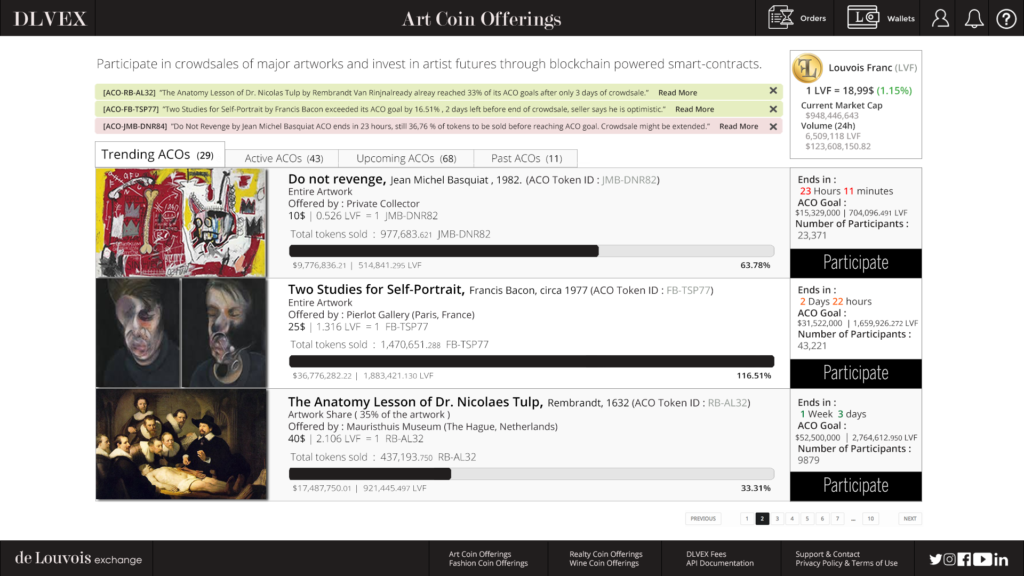 Unchaining fashion venture funding

Fashion and luxury companies are among the most profitable businesses one could invest in. However, they remain among the least well funded companies in the venture capital ecosystem as entrepreneurs turn themselves to traditional crowdfunding platforms.

For the first time of its history, the total amount of money pledged by Kickstarter projects started to decline from $615 million in 2015 to $579 million in 2016 as its model seems to have reached its structural limits : talent is everywhere but money is hard to find.

Using our platform, anyone will have the opportunity to invest in the next billion dollar fashion company initial coin offering for as low as $0.001
Empowering designers and brands

Using our FCO model, promising fashion designers and brands will be able to raise funds from a worldwide range of fashion-lovers and investors by creating their own cryptocurrencies without having to give up shares or equity.

For a startup fashion brand, creating its own cryptocurrency is the best way to generate powerful networks effects while federating a worldwide community of supporters and advertisers who will benefit from the eventual brand's success.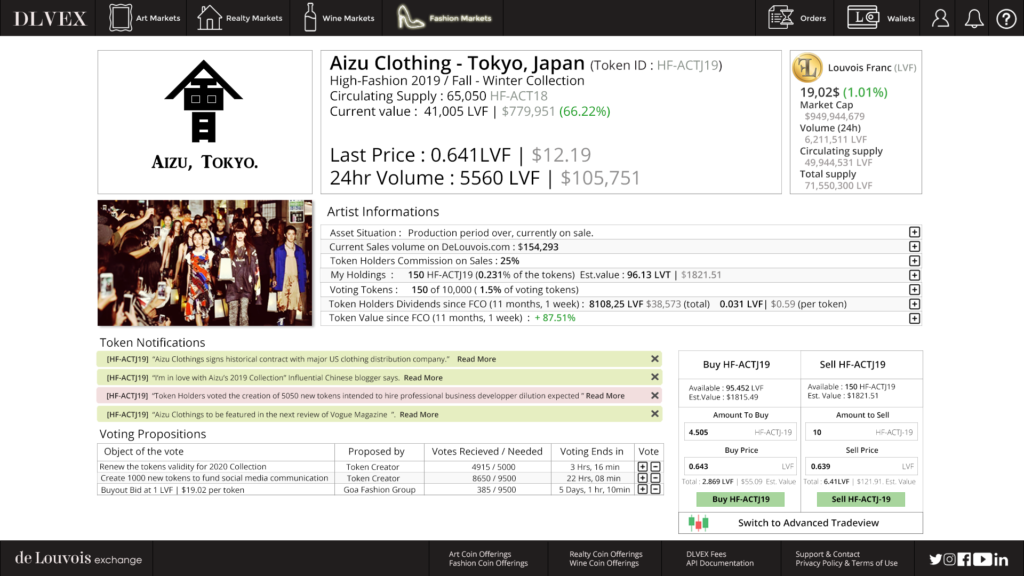 Democratizing access to fine wine investment

Fine wine is now the best performing collectible of the super-rich with values skyrocketing more than 165% in five years for some of the best vintages

It is also a proportionately exclusive investment with high barriers to entry. It is not uncommon for exceptional wine collections to be sold for millions of dollars.

Our platform will allow anyone with internet access to buy and trade shares in the most prestigious bottles and wine collections for as low as $0.001 until then reserved to the 0.01% while profiting equally from the value generated by their eventual sales.
Decentralizing wine funding

Using our WCO model, promising wine entrepreneurs and established wineries will be able to raise funds from a worldwide range of wine-lovers and investors to boost their companies and fund their wine projects by creating their own wine-backed cryptocurrencies

This is a great way to federate a worldwide community of advertisers and ambassadors who will benefit from the brand's success.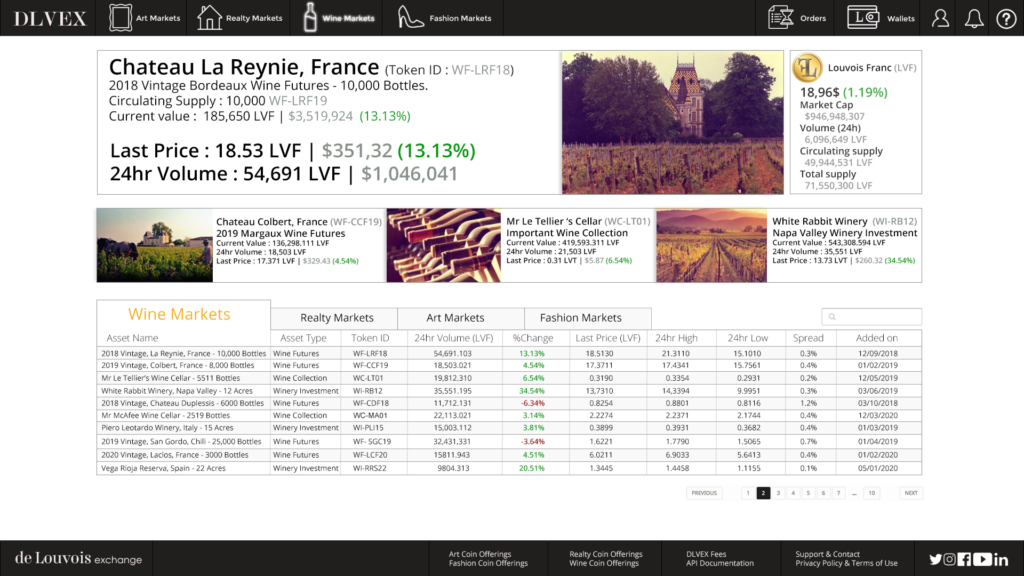 Democratizing access to luxury real estate investment

Traditionally, luxury real estate is the most stable and secure store of wealth, but its barriers to entry are proportionately high.

Using our platform, investors from around the world will have the possibility to buy tokenized shares in luxury real estate assets such as fully rented luxury apartments and exclusive real estate developments that benefited from a RCO
(Realty Coin Offering) on DLVEX for as low as $0.001
Bringing liquidity to the luxury real estate market

Real estate is considered an illiquid investment. If you bought shares in a real estate project or property, you hold securities or assets that can not be quickly and easily sold or exchanged for cash without a substantial loss.

In parralel, finding a buyer for a luxury property can be an expensive and time consuming process involving numerous intermediaries.

By breaking down digital real estate certificates of property into thousands of cryptocurrency-like tradable certificates and offering them for crowdsale using our RCO model, real estate owners wishing to sell their properties will be able to find not one, but thousands of buyers, quickly and seamlessly.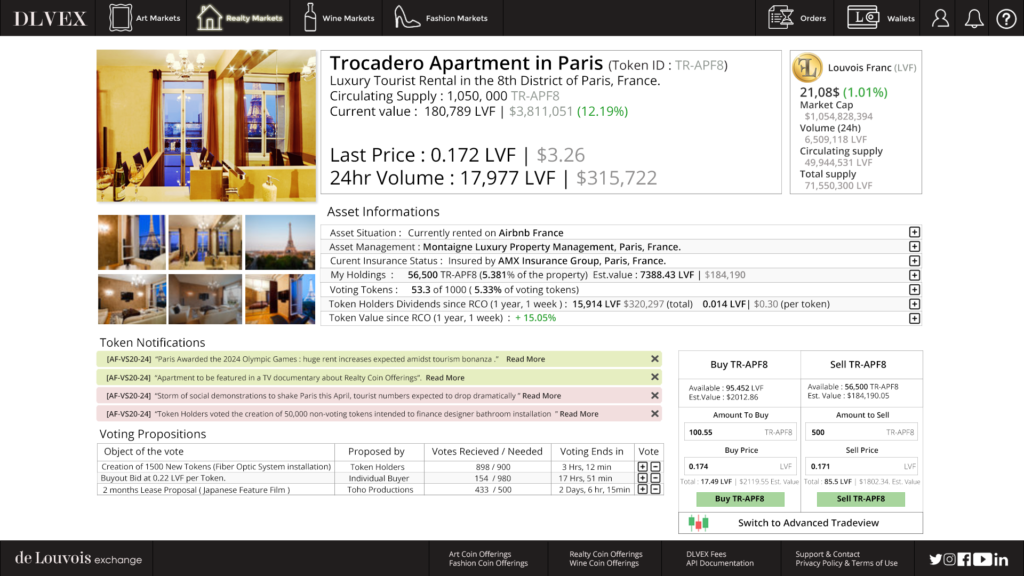 DLVEX uses the blockchain technology to emit tradable fractions of digital certificates of ownership for art, fine wine and luxury real estate.

The same technology is used for emmiting tradable shares in artist futures, wineries and real-estate smart-contracts.

This technology is highly-secured and decentralized : even if our platform disappears for an entire hour, it will not affect in any way the integrity of the digital assets or the execution of the smart-contracts.

Using the Ethereum blockchain, each and every transaction that takes place on our platform will be fully transparent and publicly auditable by our anyone.

All the critical functions of our platform such as trading and smart-contracting of our will be cryptographically secured.

DLVEX is a service built on top of the Ethereum infrastructure which security and integrity is ensured by hundreds of thousands of computers around the world.
Chain of ownership & authenticity

According to the FBI, billions of dollars worth of art goes missing every year, alongside with that, numerous experts already claimed that 50% of artwork in circulation is not authentic.
Regarding wine, the total value of forged bottles is estimated around $3 Billion, and that does not take into account the staggering number of stolen bottles in circulation.

When it comes to fashion and luxury goods, the total losses caused by fake and forgeries amount to +$450 Billion according to a report from the O.E.C.D

This will not happen on our platform : each and every artwork, bottle, fashion and luxury good sold through DeLouvois.com will be provided with a public and unforgeable blockchain certificate of ownership and authenticity : this will also apply to major artworks and prestigious bottles that benefited from a crowdsale.

When the owner of an artwork, luxury good or fine wine bottle, wants to resell it, he will simply have to provide the public certificate to the new owner and update the chain of ownership.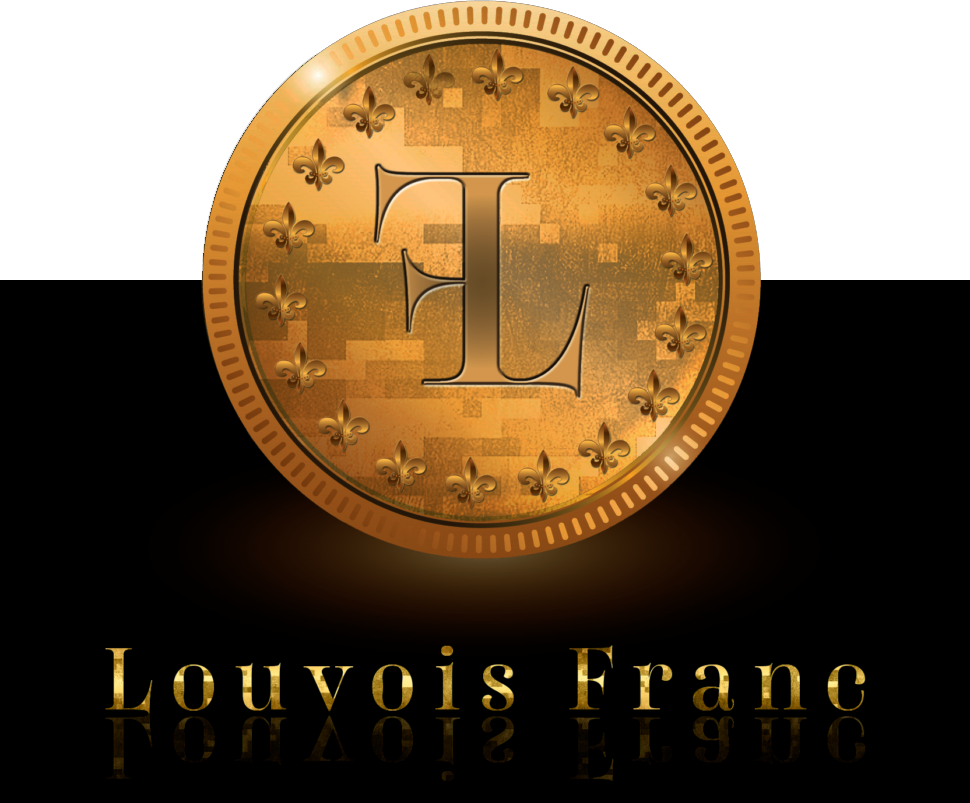 The Louvois Franc, currency of the DLVEX economy

"The Franc is the name of several currency units, The French Franc was the currency of France until the euro was adopted in 1999. The Swiss Franc is a major world currency today due to the prominence of Swiss financial institutions. The name is said to derive from the Latin inscription "Francorum Rex : King of the Franks."

The Louvois Franc (LVF) is an ERC20 compliant token running on the Ethereum blockchain, it will be the currency of the DLVEX economy.

Any fiat or cryptocurrency amounts being invested on the DLVEX platform will be converted to Louvois Franc (LVF) first.

Louvois Franc token has a fixed supply : the more people will offer art, fine wine and real estate for crowdsale, the higher the demand for LVF will be : this also applies to artist, wineries and fashion cryptocurrencies and smart-contracts.